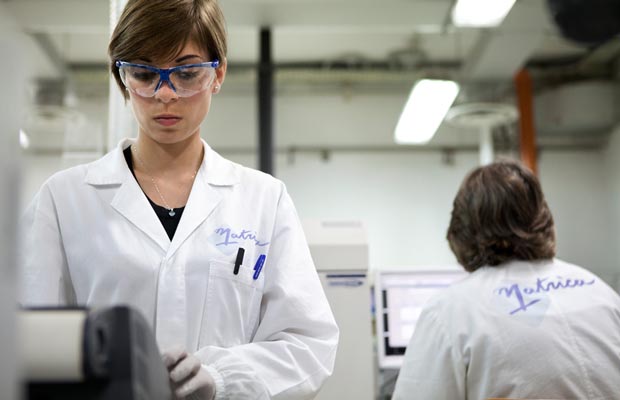 Research and development
Since 2012 Matrìca has set up a Research Centre of over 3,500m2 which includes a chemical synthesis laboratory, a chemical-physical analysis laboratory and 7 pilot plants.
About 12 resources operate at the Porto Torres Research Centre, another 4 at the Novara Research Centre.
The Chemical Synthesis Laboratory is characterized by the presence of different types of reactors such as fixed bed-reactors, Air-Lift type reactors, slurry reactors, distillation columns, autoclaves for chemical synthesis, glass columns for ion separation through the action of resins, in addition to the classic laboratory equipment.
Several professional researchers work in it, in projects related to:
process optimization
development of new technologies
production facilities assistance
product development and sample preparation for commercial testing
technical support to the commercial sector
The pilot plants area, the flagship of the Research Centre, boasts the presence of seven different units used to reproduce both the Monomer production process and the synthesis and purification of different types of lubricant and cosmetic esters. Highly specialized personnel are involved in particular with process optimization, industrial scale plant assistance, approval of strategic raw materials, scale-up of the technologies implemented in the chemical synthesis laboratory and production of samples for market tests.
The Matrýca Research Centre works in synergy with the Novamont and Versalis research centres for specific areas of interest, as well as in collaboration with leading national and international institutes and the regional research system.